May is Brighton Festival month, when everything comes with free Art, be it face painted and slightly annoying, or overpriced and booked up by the time you see the program anyway. It's not that I don't like it, it's just that it traditionally passes me by in a whirl of interesting but ultimately unnecessary posters, posh coffee and gallery trails. So it's been this year, excepting the one thing to which I was (deprecating cough) actually invited. A belated plug follows...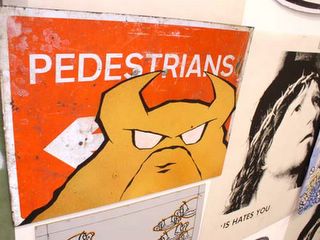 My friend Mr.
isthisyou
has put together a superb exhibition of graffiti art, including a lot of things that I've noticed, loved and photographed (if I've managed to remember where I saw them and they haven't been painted over in the intervening time) over the last few years. Some good pictures of the exhibition can be seen
here
, including the pics I've posted.
The two above are by Void, and are usually spotted as just fairly perfunctory black magic-markered outlines of yer monster, but once you notice one, you notice thousands all over town, watching you and keeping his own tabs on your activites...
Well, that's the way I feel.
The stuff below is by
Hutch
, who's my personal favourite. I must have walked past his Johnny Rotten off London Road a thousand times.
So in case anyone is near enough, there's one more weekend to go, at the
Open Gallery
in the middle of town, just behind Boots, 11am-5pm.
Map
.
Mod out.